| | | | | | | |
| --- | --- | --- | --- | --- | --- | --- |
| homer | 70 | 54 | 15 | 46 | 82 | 1195 |
Can you solve this math puzzle? It could be quite tricky, suitable for geniuses. if you guess the correct answer, please comment & share:)
Can you solve this math puzzle? It could be quite tricky, suitable for geniuses. if you guess the correct answer, please comment & share:)
Solve this picture logic math puzzle. You will have to find a number for a teddy bear, then for a koala and get the result. If you find the answer, you are great!
Two men were on a ship. They were both facing opposite directions, one facing east and the other facing west. But, they were both seeing each other. How is this possible? There were no mirrors!
Can you solve this orange and lemon picture logic puzzle? Even kids should solve it.
Another math puzzle with a mouse and a cat. There are more of them on the picture, you just have to decide how to solve it.
Solve this monster maths puzzle. The results are defined in a secret way - can you find it?
Riddle with answer with cat, ant and dog. Try to find the answer under one minute unles you are not able to comment;) Good luck!
9 out of 10 people fail to answer correctly. Please solve this picture logic puzzle ASAP to prove that you are the genius!
Solve this easy math equation with three animals. Each of them represent a number. Be care of the cow! There might be more of them.
Animal puzzle just waiting for you! Giraffe, zebra and sheep - find the numbers instead of pictures. Remember the equations should match.
This is a quadratic equation puzzle with an animal. Can you solve it? There might be more correct answers! Please share in comments if this was easy or hard.
Math puzzle with three animals. Leopard, zebra and giraffe mean a number. Can you find these numbers?
Red & Blue fish puzzle. Count the blue ones and the red ones to get the correct answer. Once you get it, please share :)
Can you solve this puzzle? There are two fish, each in different color. Each represents a number.
There are five number series puzzles on the picture. Each series continues with some number (replace the question mark with your number).
Bee and ant easy puzzle to solve. Just take a look and see a solution to thiz puzzle.
Maths puzzle with octopus, seastar and fish. How smart are you? Are you able to solve this task?
This maths puzzle consists of two smaller puzzles. The first one is an equation with orange and lemon. Once you find the numbers for fruit, solve the second task. You can use Pythagoras math to solve it. What is the missing number?
Solve this equation with animals - dog and giraffe. It's a basic math puzzle which is going to be easy peasy for you:)
A magician a guy with glasses. Please solve this as each of these guys represent a positive number. It's up to you, go solve this :)
Look at the fruit symbols. Some fruit is doubled, while other is cut in its half. Can you solve this tricky math riddle? Then you are a genius;) Share if you like.
Which are the two numbers in the table? This picture brain teaser table puzzle will test your thinking. Find the hidden pattern and reveal the answer like Einstein!
Can you find one number replacing the question mark? Find a pattern in the equations.
Here is a hard puzzle with leopard, peacock and monkey. Take a while and solve this. Can you be the first one to solve it?
Number series puzzle pack for you. Can you solve these six different number series, each with different keys?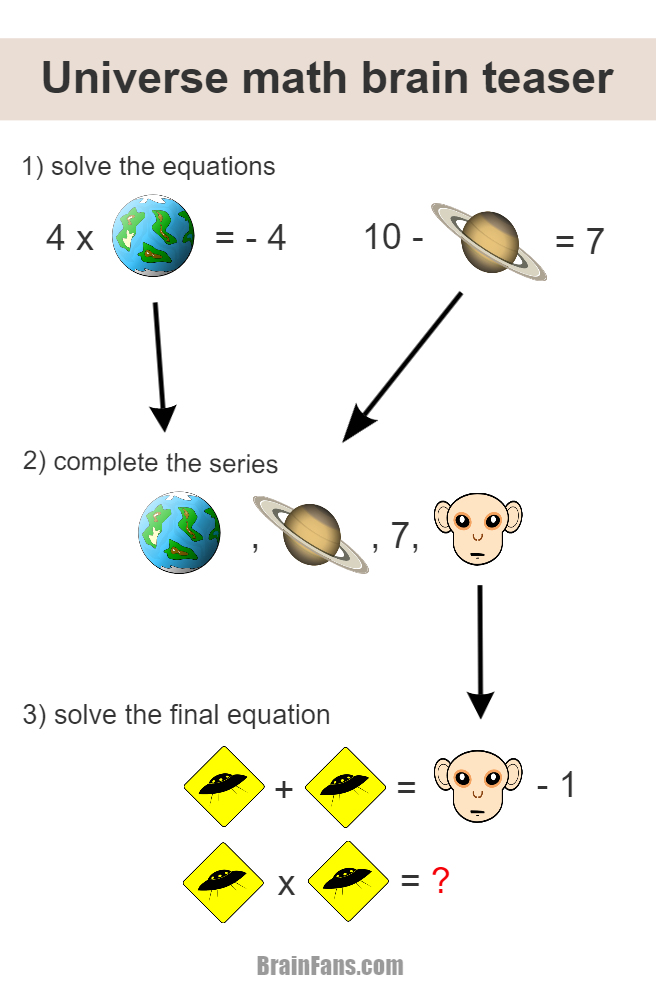 complete this brain teaser divided into three single math puzzles. The first puzzle - solve easy math equations, get numbers for planets. Then use these numbers in a number series. Again, find the number for the alien picture. Using alien picture, you can find the final number for UFO caution sign.
There is a hidden pattern to get the number in a circle. Use all four numbers around circles to calculate the number in the center. Math puzzle for beginners should be easy peasy for you. Can you guess the result?
This math puzzle consists of three sea animals - turtle, crab and octopus. Each animal represents a positive number. Can you find all the numbers a solve this math puzzle?
What number should replace the question mark? Consider four triangles, each with different numbers in its corners. Apply your math skills to solve this puzzle!
Grapes, Bananas, Watermelons - the right tough fruit puzzle for you. If you are skilled, go for the right answer!
There are shocked smiley and pirate smiley, both represent a number. Can you find those numbers?
Can you solve this? 22 + 4 = 24 13 + 6 = 16 80 + 2 = 82 67 + 9 = ??
Replace a question mark with a correct balloon. The possible answers: blue balloon, green balloon and yellow balloon.
Here is a rebus. Can you find what it says? Use your brain and find the solution for this brain teaser!
If you are genius, solve this brain teaser. If you solve this, don't forget to share.
A puzzle with a cat and cheese. Can you solve this brain test under 10 seconds?
Find the number which fits into the last blue triangle (replace the red question mark with the correct number). Look at the numbers in the corners of the triangles - they give you hint how to solve this puzzle.
Find the number (3 digits) provided all the equations are fulfilling the same pattern.
Find the missing letter (red question mark). If you arrange all letters in a correct way, you will get two words. It's up to you now - can you be quick and find the words (and the letter)?
Think of a number. Double it. Add ten. Half it. Take away the number you started with. The result is five.
If 5+3=835 2+4=642 7+0=707, then which number is the result of 6+1=??? Can you find the value of this math puzzle with zombie head?
New puzzle with animals contains these operations (+,-,x,:). There are three animals: bunny, ostrich and llama. Solve these equations and select numbers corresponding to animals. Easy or hard?
Look at the smilies and face expressions. What is the result of this math puzzle?
The well known bug is here once more. It is asking you for a number which is the result (provided there is a pattern in the equations).
Can you solve this math puzzle? You have a christmas tree, a present, a teddy bear. Hope you enjoy this one, merry christmas to all of fans of brain teasers, puzzles, riddles and so on!!!! :)
Think of a number. Multiply your number with 3. Add 45 to your number. Double the result. Now divide by 6. Subtract the number you started with (if you still remember:)). Now your number is 15. Or do you think you got different result? Not possible!
Can you find the answer? There are two animals - triceratops and brontosaurus. I bet you know all of them. Nevertheless, do you also know the answer for this number math puzzle? Maybe it's not that straightforward.
Which three positive numbers give you the same result when you add them together as well as multiply them together? In other words, find values for A,B,C and D. Keep in mind the numbers must be greater than zero.
Which number fits into the last triangle? Triangles are colored differently - each color (violet/pink) represents a pattern! Find it and get to know the result. Comment if you solve;)
There is a math pyramid on the picture. Are you able to solve this brain teaser? Each parent number is calculated from the child numbers.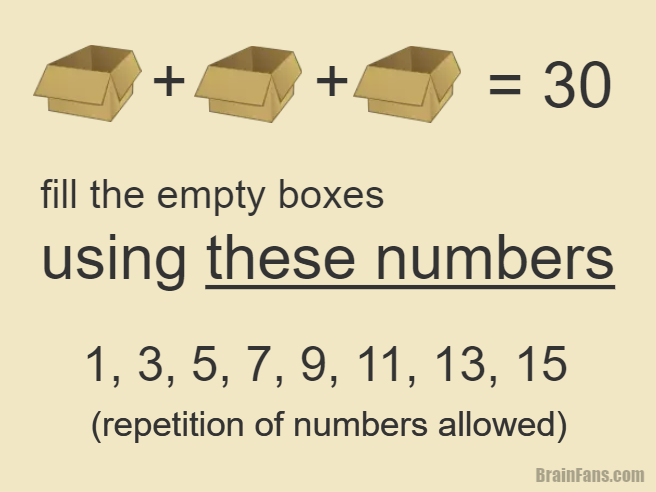 One of the hard number series puzzle in front of you. Use the numbers on the picture, put them into the boxes and get 30 as a result. Remember: you can repeat the numbers how many times you want!
what's the answer math puzzle. Fill in missing numbers in squares to get the correct result