zbynny
Czech Republic
I like solving all kinds of math & logic brain teasers. It keeps my mind fresh.
| | | | | | | |
| --- | --- | --- | --- | --- | --- | --- |
| zbynny | 35 | 16 | 4 | 9 | 25 | 276 |
Fish & crab logic puzzle for you to solve. Take one minute and try this easy puzzle.
What number should replace the question mark? Consider four triangles, each with different numbers in its corners. Apply your math skills to solve this puzzle!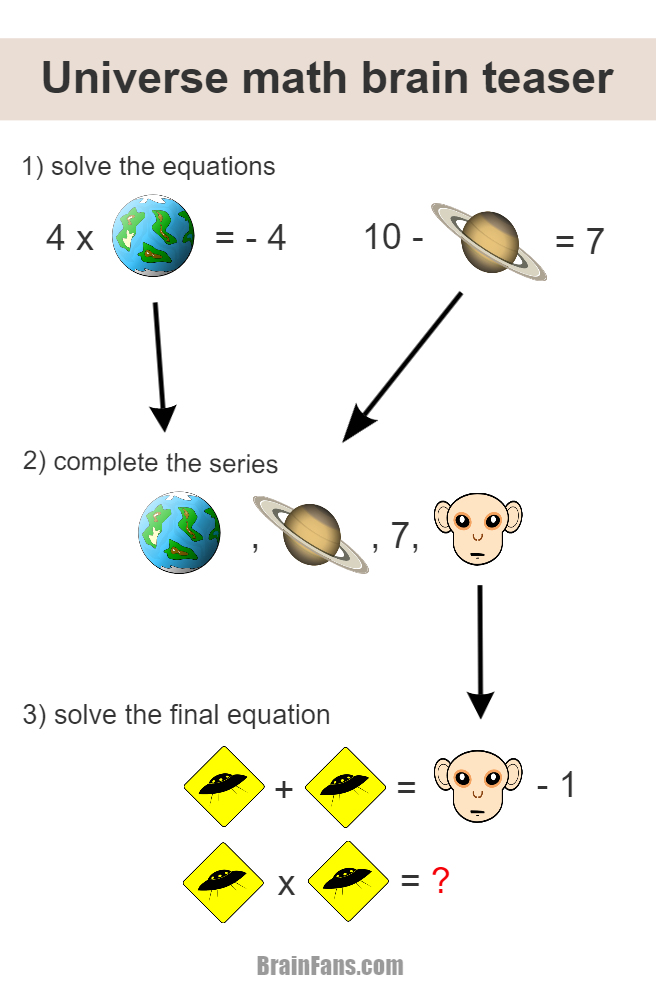 complete this brain teaser divided into three single math puzzles. The first puzzle - solve easy math equations, get numbers for planets. Then use these numbers in a number series. Again, find the number for the alien picture. Using alien picture, you can find the final number for UFO caution sign.
Think of a number. Double it. Add ten. Half it. Take away the number you started with. The result is five.
This fun puzzle requires lots of critical thinking. You have to find value for **** as well as for toilet paper and of course you have the answer! A)? B)? C)? or D)? The answer is up to you LOL.
Can you find the answer? There are two animals - triceratops and brontosaurus. I bet you know all of them. Nevertheless, do you also know the answer for this number math puzzle? Maybe it's not that straightforward.
Solve these picture mathematical equations. Three pictures need different numbers. Which are them?
If 5+3=835 2+4=642 7+0=707, then which number is the result of 6+1=??? Can you find the value of this math puzzle with zombie head?
You have five types of fruit, each with different number. Can you solve this math task and get the correct numbers?
There is a math pyramid on the picture. Are you able to solve this brain teaser? Each parent number is calculated from the child numbers.
Fish & crab logic puzzle for you to solve. Take one minute and try this easy puzzle.